"Maybe its time to change, and leave it all behind. I've never been one to walk alone, I've always been scared to try. So why does it feel so wrong to reach for something more? To wanna live a better life, what am I waiting for? 'Cause nothing stays the same. Maybe its time to change." -Maybe, Sick Puppies

Maybe it is time for a change, but I am not ready to leave it all behind. Life is all about change after all, and it only makes sense. Life experiences change who we are, and nobody is the exact same person they were last week, last month, or last year. Its been four years since the official start of Immortal Music as it is known today, and six years since the idea started getting thrown together.

This is a dream I never knew I had, and there's been so many ideas surrounding it that have yet to come into existence. Some, admittedly, I have lost interest in, but I accepted long ago that they can't all happen at once. I am only one person, therefor, its just not possible. Somehow though, even though I accepted that fact, I never accepted the fact that in order for things to expand a chapter may have to end. The other day though, I was discussing Immortal Music matters with my mother, and I told her I have lately felt more drawn to the photography aspect of this whole thing. I got a bit burned out on the writing aspect, therefor it got put on the backburner. I've been very aware of the lack of content, and have been quite concerned that its going to start taking a toll on the offers I get. That scares me, because its not that I don't care, its just.....this is supposed to be fun, and it is, but lately its felt like a chore. Trying to find time to write about stuff I may not actually be drawn to, for only a few people to even respond, has become somewhat of a chore.

I love covering the shows, and I love sharing my thoughts, and getting feedback from those who choose to provide it. I love being able to help others, musicians and just those in need alike, but am I really helping anyone if I'm just writing to "get something up"? I don't think I am, not properly anyways.

Here's the thing, I think if I could sit on the computer all day like I used to, and I had time to write several things a day, and post news, and review a couple albums in a day, I would feel differently. But, I have a job that I love, and its quite demanding on its own. I am not at it seven days a week, but when I am there, I'm doing everything that I can. I'm one of the go-to people and am training to be a manager, so that keeps me very busy. Plus I am still doing things with Remedy, and have friends I try to see sometimes. So, I've noticed when I come home finally, I honestly don't want to work more, I want to veg and scroll through Pintrest and catch up on YouTubers. I generally mean to just unwind for an hour or two, eat something in this process, and then get to work on writing, but....it never happens.

I've found reviews on and off since the start of this all to be a chore, unless I was overly interested in the album to begin with, and I generally miss the news when its new now, because of work, so by the time I can post about it -there's little to no point. When I happen to catch something when it hasn't been talked about a billion times already, I do post it, but I do often feel like I can just repost a link from some other outlet on the page and give my own thoughts later on if need be. Over all though, it just hasn't seemed necessary lately, and my passion has gravitated from constant coverage, to the art forms of it. Like I said earlier, I have been more drawn to the photography aspects of things lately and that has come from covering so many shows and recently getting an incredible camera. Its also come from being incredibly busy and just not having enough time.

And I'm not losing interest all together. I'm not depressed, and its not that I don't care. I just am running short on time and sometimes priorities change. When I felt myself losing interest, I did wonder if I was starting to get stuck in a rut and therefor getting depressed -that's not the case. I'm fine, just priorities are changing. And this does not mean I'm never going to write, because that's not true. From time to time, I still will, but I just have decided I'm not going to stress myself out about getting content up constantly because that's what's burned me out! I have thought of getting someone else to help write some content, but I am still struggling with that too because this has always been my thing and I am not sure just yet if I'm ready to share it. I'm sorry if that sounds incredibly selfish, but its true. This is my thing and its come super far, and I'm just not ready to share that with someone yet. Plus, there's a certain way to things I like to have, and I haven't found many people that seem to fit in with what I have in mind. I am planning on getting other writers at some point, just to keep the ball rolling as I work on other things, but for right now, I think I just want to roll with how life is going, and see where it takes me for now.

I don't know. Thank you, guys for still being there, and for understanding. I am working on some big things, like I do have merch, and am trying to figure out the online selling aspect, and I may be getting to cover a massive festival on the other side of the country soon. Things aren't going away, they're just changing. There's a lot of projects going on right now, and you're not going to be left out, I just have to figure it all out and get a good balance going on.

To quote a good friend of mine, "Such is life."
Powered by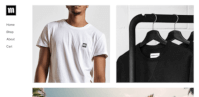 Create your own unique website with customizable templates.